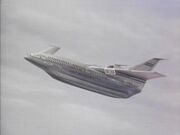 Flight DT19, or "Delta Tango One-Niner," is an airliner which the Mysterons take over as their weapon against the Director General of the United Asian Republic in "Winged Assassin," an instalment of Captain Scarlet And The Mysterons.
Technical Data:
Edit
Maximum speed: 1,500 mph
Seating capacity: 500
Ad blocker interference detected!
Wikia is a free-to-use site that makes money from advertising. We have a modified experience for viewers using ad blockers

Wikia is not accessible if you've made further modifications. Remove the custom ad blocker rule(s) and the page will load as expected.